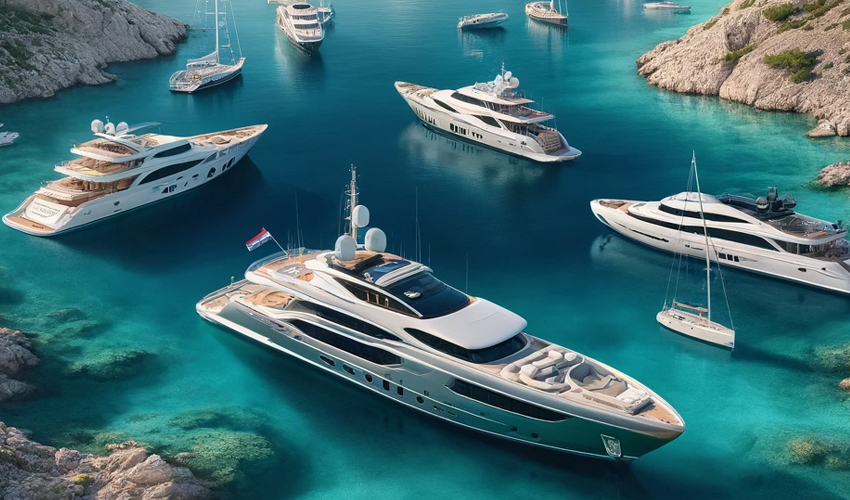 Day Yacht Charters Croatia offers you an unforgettable experience when you use our services.
Email or phone us today +1 (305) 515-4735 to talk directly to a charter specialist!
Private boat rentals and yachts for charter in Croatia
Quality Catering services with advanced facilities on our yachts •
____________________________________________________________________________________________________________________________
Included •
Every luxury yacht is expected to be equipped with luxurious catering optiona; that is why our yachts are known to be well equipped with the best Galleys, ice, soda, bottled water and cooler. We also provide you with enough fuel to take you however far you want to cruise to and a reputable crew with expertise to help you with whatever you need to have a wonderful experience at sea.
____________________________________________________________________________________________________________________________
All you need to bring•
At Day Yacht charter, we take care of your every need, leaving you with little things to bring while boarding our yacht. There are few things you might want to carry along, such as; your kind of music, sunglasses, hats, sun block, alcohol, energy drinks, something to keep you warm in case there is a dip in temperature. You can also bring additional food; anything that will make you more comfortable and relaxed while you are on board in sea is the idea which our yacht charters promote.
____________________________________________________________________________________________________________________________
Where are we located? •
There is two marinas in Croatia where you can board a yacht.

The Marina Croatia
The marina is a town located on the Adriatic Highway in the heart of Split-Dalmatia, Croatia. The Marina Croatia is a tourist village, and our yachts charters are there to make sure that you have a smooth and perfect experience. Day yachts charter is based in the ACI Marina, which is the harbour of the split-Dalmatia. We have luxury yachts for hire to enable you cruise the wonderful Croatian shores. With our luxurious yachts you can create your fantasy into reality and navigate it as you please, we have professional crew members to help you achieve that and Also we can plan your vacation for you to give you an express service that will create a magnificent lifetime memory for you.
____________________________________________________________________________________________________________________________
Luxury Yacht Charter Croatia? •
Of every yacht Charters in Croatia, Day Yacht charters has successfully ranked to the top from a humble beginning and have remained on the budget of every businesses, corporations, families, friends and event planners around the world. We got this reputation from the quality services we render and the fidelity we offer. We own the best and most extensive fleets of yachts for charter in the whole coast of Croatia With a wide variety of luxurious yachts, fishing yachts, powerboats and other comfortable yachts for entertainment. At Day yacht charters, we have everything that you need ranging from entertainments, sports, adventure and relaxation. Our services are enormous and will not fail to satisfy your every need. Contact us for more information about our services and we will give you the best offer.
Also, we manage several events like romantic cruises, family gatherings, bachelor parties, bachelorette, weddings, anniversaries, whale watching, fishing trips, corporate meetings, official dinners, parties or birthday parties, and other exciting events for our clients. Flaunt your style today at sea with our classic yachts and experience glamorous excitements.
____________________________________________________________________________________________________________________________
Events we cover.
Bachelor Parties
Birthday Parties
Bachelorette Parties
Anniversaries
Corporate Dinners
Family Charters
Romantic Cruises
Weddings
Fishing
Whale Watching
Our Private VIP Yacht for Charter in Croatia
Are you picturing your next vacation or holiday with your friends on a private VIP luxurious yacht surrounded by plush views with fabulous parties and events? The place to get it all done is at Day yacht charters where all your imaginations can be created with the very best VIP luxury yacht for rent, suitable also for families.

 There is no limit to which you can customize your private yacht to satisfy your need and that is what we stand for, offering you the best quality service and experiences. We create as you imagine just fill us in with every specification you desire and watch it come true in all our capacity.
Hire our private yacht and entertain your guests with special events and lots of glamorous views, by creating a memorable and blissful experience in their minds which will last for a very long time. Our services provide you with various alternatives to pick from as Croatia's best yachts will be lined up for you and you can select which best suit you. Do you need to hire a yacht for a private party or a romantic getaway to woo your loved one, our private VIP yacht collection is the right step in the right direction. We provide private VIP yachts for hire for any family gatherings, wild nights at sea and official events.
Apart from hosting marvellous events on the yacht, our private VIP yachts serve other purposes like fishing trips, snorkelling, scuba diving and others. Our services enable you extend your stay on the yacht for as long as you want so you don't have to worry about timing. After all, with all the amazing views the sea provides, who wouldn't spend more and more time on our luxurious yachts?  We are always at your service and will take care of your requests.
Croatia is blessed with a beautiful coastline, networks of archipelagos and fantastic weather condition with magnificent scenery for diverse activities throughout the year, making it perfect for activities like; swimming, scuba diving, water sports and snorkelling. Aside these, you can try yachting which is a great way for you to relax and unwind. Here at Day Yacht Charter in Croatia, customer satisfaction is our priority, we provide numerous services to diverse customers and fulfil their aspirations and expectations by putting smiles on their faces and that of their guests.
Snorkelling activity in Croatia

Croatia Snorkeling? If you are thinking of the possible activities you can explore while at the Croatian water, then the snorkelling activity is a magnificent experience that will bring you closer to marine life to feel the awesome perfectness of nature. The idea island, with soft sand beaches for this activity is the idyllic La Roqueta Island which is perfect for colourful coral reefs, enjoy the atmosphere, feel the sun kiss your skin and have a taste of the local cuisine available at restaurants on the island. This is a perfect way to spend that holiday with your family.



Other yachts Charter locations to explore in Croatia
There are numerous towns with harbours you can explore with our rental yacht charters in Croatia, ranging from Split, Sibenik, Zadar, Sukosan, Dubrovnik, Pula and even Biograd. We provide you with quality boats and yachts to cruise along the coastline of Dalmatia and its magnificent islands. The coast of Croatia has a magnificent view that will leave you wanting more, with its town harbours closer to one another, covering 150 miles of nautical distance from each other. For instance, at Split, there are three different marinas for you to choose from. There is the Marina Lay, the Marina Kastela and the ACI Marina Split. Also, there are other marinas too like The Marina Kornati which has up to 750 berths and the Marina Sukosan, with 1400 moorings and impeccable services.
Croatia has an enormous variety of islands you can explore with your rental yacht. The Hyar has a vast fortress which provides a suitable atmosphere for hosting great parties and its town is a must check out while in Croatia. There is also the Mljet town which has a magnificent national park with amazing lakes; the Korcula town is another old town you can explore, with a tour at the Skradin town, you are sure to enjoy the glamorous view of the waterfalls in their national park. In the same vein, there is the north side of the island which you can explore for example Krk and Brac, each having a fabulous experience for our guests. The Kornati National has a wonderful view with up to 130 islands, it is a must see for any tourist or guest touring along the coast line of Croatia, with its water density and collective islands, you can cruise certain bays and enjoy wonderful meals at its various restaurants.