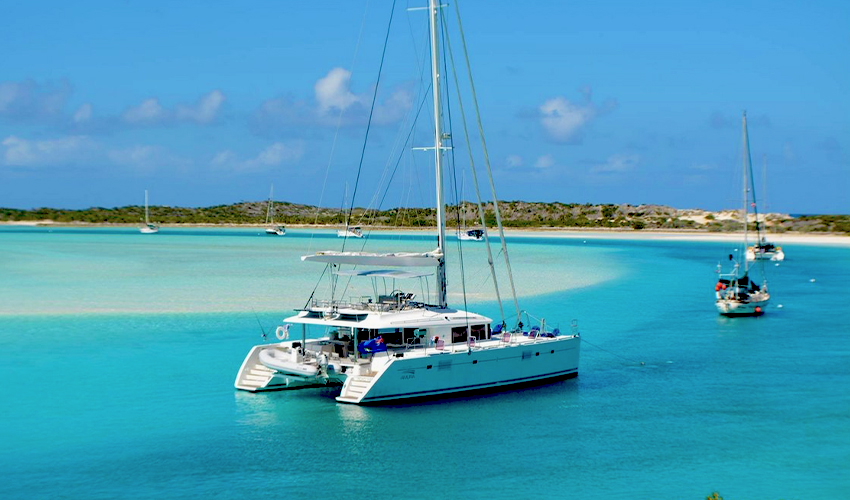 The British Virgin Islands didn't just get its popularity from mere hypes, it really has proven to be an awesome place to spend quality time and that's why it's  popularly referred to as "Nature's little secret". The BVI is a combination islands with stunning features and exciting activities. It's a place to experience diversity as each island possesses its own uniqueness and charming attractions.
It's a colorful experience that will never leave you memory. Experience nature at its best as you go on a sailing charter surfing the surface of the pristine turquoise water surrounding the British Virgin Islands.

BVI Yacht Charters, Private Boat Rentals BVI
Yacht Catering •
____________________________________________________________________________________________________________________________
Included •
We provide crewed charters only. Our yachts are stocked with bottled water, coolers, soda, ice, snorkel gear, and fuel.
We do have catering Menu to choose from. Menu's varies from the vessel to vessel
____________________________________________________________________________________________________________________________
Things you can bring with you •
We expect you to provide certain items for yourself. They include hats, sunglasses, sun lotions, etc. Also, we do not provide alcoholic beverages so you can come with your favorite drinks. You are also welcome to bring any food you may like..
____________________________________________________________________________________________________________________________
British Virgin Islands •
The British Virgin Islands has proven to be one of the best places you can choose for a quality vacation. Here on BVI are numerous sightseeing attractions, historical events, entertainment and other fun activities.

Explore these intriguing sites as you visit the British Virgin Islands…
The Bight
Being the prime anchorage on Norman Island, The Bight has an awesome sheltering as it hosts a lot of sailing charters.  The eastern end of the harbor possesses reefs that are perfect for snorkeling. Extending for over a hundred yards, the reef is healthy as it floats above the sponges and the garden of sea fans. This prehistoric site has a lot to show when it comes to the beauty of nature.
BVI Sailing Charter
Here, the bay is very calm and it's a wonderful place to enjoy snorkeling. You will have an awesome experience of snorkeling side by side with sea creatures like the rays, sea turtles and you may get to see a moray eel. It's a beautiful spot with lots of nature to see. There's a field of over a hundred orange sea stars among many other exciting attractions.
The Norman Island Caves
Though this Island is popular for its history of having lots of treasures buried, it is also an enjoyable spot for snorkeling, which also offers a different booty for snorkelers. It's just a short trip away from the Bight where you get to see a school of friendly yellow tails, blue tangs, sergeant majors and much more as you pass through the caves. To have a total experience of the caves, a flashlight would be necessary as you go through exploring the caves shimmered with a delicate coating of orange cup coral and red sponges.
The Indians
This is a part of the National Park Trust and it is known for its series of jagged rocks off the Norman Island. It is a great place to enjoy snorkeling with a difference and also a place to find a mooring buoy. It is usually visited during the day, as a lot of cruisers come in here to spend several hours of the day exploring the Indians.
Among its many attractions are 4 cone-shaped rocks of about 30 -40 ft rising above the surface of the pristine water. The fourth is separated, having a narrow channel where a large school of fish pass through. This spot is rich with a variety of reef fish and also the harmless jellyfish during the summer. Magnanimous in beauty, its features include the sea fans and corals being complemented by the ray of sunlight which brightens the colors and enhances the overall beauty.
Buttonwood Bay
This bay simultaneously serves as a snorkeling spot and an anchorage. It possesses a shallow coral reef of about 20 yards off shore and an in-depth of 8 ft. Its slope extends to about 18 feet and vertically returns to a depth of 40 ft. It also has an array of small marine life. The view of fish and the enticing noise made as they swim gives an exotic feel that you can only experience to understand.
The Wreck of the RMS Rhone
Being one of the most impressive shipwrecks in the Caribbean, the Rhone sank in 1867 off the Salt Island and before then, it was known to be the pride of the Royal Mail Steam Packet Company. It broke into two when it hit Black Rock during the storm and sunk. It now sits in 3 sections on a sandy base serving as home to various species of fish. The Rhone has become a marine park and a part of the BVI National Park Trust. It's not just a cool spot for snorkeling as a lot of diving takes place here too.
Manchioneel Bay
This bay is an anchorage serving as a home to the Cooper Island Beach Club. It has a wonderful sight of beach sand and palm trees with a lot of attractions on the islands to its west. The dinghy dock is a u-shaped reef with plenty of fish activities and fast flowing currents in the channel between Cooper and the Salt Islands with a proximity to the open sea.
Manchioneel bay is rich with a variety of fish such as parrot fish, butterfly fish, blueheads, clownfish, among many others. At the sandy bottom, you may find sea stars, rays, and seahorses. It's a perfect spot for snorkeling.
Cistern Point
On the south of Manchioneel Bay is the Cistern Point – a place where you can take your dinghy to enjoy a wonderful experience of snorkeling. You can anchor your dinghy on the line in-between both buoys as you engage in snorkeling. Around the reef, you will find a lot of reef fish, crabs, large barracuda, etc. you may be lucky to come across one or more nurse sharks. 
Alice's Backside
Located on the northwestern tip of Ginger Island, Alice's Backside has not been inhabited so it remains a good stop by as you sail towards Cooper Island or Virgin Gorda. It has just 2 buoys which are usually occupied by commercial dive operators, but if you are lucky to find an open buoy – it is worth taking a stop on your sailing charter. The beauty of this place is what makes it special. It has a huge sand patch that is dotted with large dots of brain coral as well as mushroom coral heads.  
The Baths
The bath is highly recommended as you plan your sailing charter around the BVI. It's known for its lovely attractions especially the tremendous boulder formation in Virgin Gorda's northwest shore. It has a great landscape which awaits the small caves formed by the boulders which were once scattered by ancient volcanic activities. Large pools of water are formed as the sea washes between the huge rocks, making the pristine water sparkle as sunlight beams on it.
The huge granite boulders make up tunnels and cervices as the meet towards the sea – making a home of a large school of tropical fish. Snorkeling from the Devils Bay to the huge rocks of The Baths is a great adventure you should consider.
Great Dog
This is another good stopping point for cruisers as they sail from North Sound to Jost Van Dyke. Here you will enjoy snorkeling in a spectacular way as you anchor on the Southside of Great Dog. The reef is parallel to the island towards east-west, approximately about 100 yards from 10 ft to 60 ft. it is a great habitat for crabs, lobsters, hordes of reef fish, etc. as you will find a lot of them in cathedral-shaped grottoes.
Monkey Point
You'll find this beautiful rocky outcrop on the Southern tip of Guana Island. As you anchor at the National Park mooring buoy, you will notice that your vessel is gathered by yellowtail snappers and hordes of blue striped grunts. Snorkeling here is very interesting, as you swim towards shore – you will notice that the yellow tails will curiously come towards you hoping to adopt you as one of their own. Enjoy the experience of an exciting moment of swimming behind the sea turtles among other creatures to have a feel of the underwater life.

____________________________________________________________________________________________________________________________
Things We Provide
There are certain things we expect you to come with but we also provide you with the basic things you need. Our yachts are stocked with bottled water, coolers, soda, ice, snorkel gear, and fuel.
We also have wonderful chefs who offer you a menu of exotic delicacies to choose from… the menu varies depending on the yacht you hire.
Things you can bring with you
We expect you to provide certain items for yourself. They include hats, sunglasses, sun lotions, etc. Also, we do not provide alcoholic beverages so you can come with your favorite drinks. You are also at liberty to bring your favorite food.
Events we cover.
We cover the following events giving you high-quality services
Bachelor Parties
Birthday Parties
Bachelorette Parties
Anniversaries
Corporate Dinners
Family Charters
Romantic Cruises
Weddings
Fishing
Sunset Cruises
Private VIP Yacht Charters, BVI

Day Yacht Charters ensures our clients are provided with high-quality services every time they come to us. We take your requirements and work on them to give you an exceptional experience that you will always remember.
Whether your tour is business or pleasure oriented, we make certain that we provide you with a life of luxury that you won't get elsewhere. If you wish to have your boat customized, we will make it happen. We give you the ambiance you desire to soothe your class, style, and purpose.
Over the years, we discovered that our clients enjoy the moments we make happen on the BVI so much that they desire to extend their tour. For this purpose, Day Yacht Charters provides extensions on the trips to each client's need by arranging for longer trips and more activities. We also plan for your vacations, providing you with luxury at its peak.
Enjoy our itinerary and the services provided by our courteous and experienced crew.
Private Snorkelling Charters in BVI


BVI Sailing Charter
The beauty of this place and its amazing features can be enjoyed in so many ways but snorkeling is just one activity you have to experience here. Features like its healthy coral, reefs, a variety of awesome fish and many more are elements that make snorkeling interesting.
Snorkeling is not just fun, it's also easy though a lot of people think otherwise. The gears are not heavy and you don't have to go for a special lesson to learn it. Snorkeling is suitable for all ages, it doesn't matter if it's a school child or a grandparent – it's easy and enjoyable to all. Just grab a mask, snorkel, a pair of fins and you are set to explore awesomeness of the underwater. Don't worry if you don't have the snorkeling kits, we will provide all that for you.
Known for its awesome sailing, cruising areas, snorkel spots, top dives, etc. the BVI gives you so many options that make it almost impossible to explore all its features in a typical sail of 1 – 2 weeks.
However, whether you can touch all parts or not, here are some favorite snorkeling spots that will give you a full experience of the BVI.
BVI Yacht Rental

Marina Cay is a very small island it is about a half of a mile right ofoff Scrub Island in BVI. Marina Cay has a very nice restaurant/bar Pusser's Marina Cay, a awesome place to comeby for a drink.

Nanny Cay is rather unique. It is one of those little cays situated immediately off the southern shore of Tortola. However, because it is joined to the main island by a very small and almost imperceptible bridge, most people don't even realize it is actually a separate body of land. It's also probably the only "resort island" anywhere that caters almost exclusively to boaters.