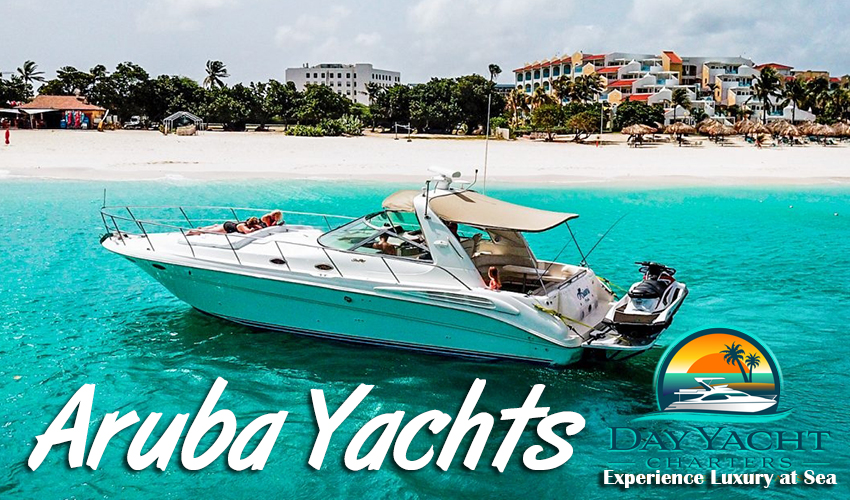 Are you searching for the best luxury yachts in Aruba? Well, your search has come to an end because we are confident that you will find what you are looking for here at Day Yacht Charters Aruba.
Here at Day Yacht Charters Aruba we can offer you, our valuable client, a full range of luxury charter options that are sure to fulfill your individual requirements.
We have a fleet of craft that just exudes opulence and comfort. Our selection includes luxurious yachts, sleek power yachts, traditional sailing boats, stylish catamarans, and practical fishing boats; that will not only fulfil your needs but exceed them.
Private Luxury Yacht Charters Aruba
Aruba Island
In the native language of Aruba, Papiamento, the way to say welcome is Bonbini. A welcome is something you are guaranteed with the beautiful friendly people of Aruba from the moment you arrive on the island to pick up your charter yacht.
The crystal clear waters of Aruba are teeming with life and play host to vibrant reefs and wrecks that offer so much for scuba divers and snorkelers to see.
The island itself is unlike most other Caribbean islands in that the climate is dry and the landscape is an arid one with cactus plants, Because of these climatic conditions visitors can usually expect dry weather. The island is mostly flat and without rivers. On the west and southern coastlines the island boasts beautiful white sandy beaches that meet relatively calm seas. The most notable beaches are Eagle Beach and Palm Beach which adjoin each other.
For sailing, Aruba is noted for its reliable winds that will not leave you becalmed, in the flat, shallow waters. Whatever your preferences, sailing on a modern catamaran, a traditional wooden schooner or a sailing yacht, you will find the waters of Aruba to be the best in the Caribbean.
Of all the islands in the southern Caribbean, Aruba is the most popular tourist destination, because of its natural attributes. Those wishing to move away from the tourist beaches and find something more natural and rugged can visit the southernmost and northernmost points of the island which are very unlike the commercialized tourist centers.

************************************
Start to plan your memorable charter now
PHONE +1 (305) 515 4735
and talk to a helpful charter expert
************************************
---
Places to Visit and Things to do in Aruba
Of course, the waters surrounding Aruba and the wonderful beaches are the main reason for visiting Aruba. However many other opportunities exist on the island itself.

The island is part of the Kingdom of the Netherlands and it's citizens are Dutch Citizens. The whole island has elements of the Dutch culture giving it a different vibe to that of most of the other islands of the Caribbean. The capital Oranjestad itself has masses to see and experience.
---
Oranjestad
Oranjestad is both the capital city, and the largest city of Aruba. The population is around 35,000.
The City is also the center of nightlife in the country, with Casinos, Top restaurants, Cabaret and Dancing. The shopping consists of a mixture of upscale stores and street vendors.
Oranjestad has a variety of shopping facilities. Places to visit include Fort Zoutman, the oldest structure on the island, and St Anne's Cathedral.
Fort Zoutman
Fort Zoutman was built in 1776 by the Dutch army who designed it as a fortification. It was completed in 1798 and was armed with four cannons. In those days it was on the shoreline, but the surrounding area was commercialized. In 1859 it was converted into a prison and many gun emplacements were removed to make way for cells. The current walls were built as late as 1936.
William III Tower
This was added to the fort in 1866 as a lighthouse and bell tower., The fort and tower were renovated and in 1983 reopened as the Historical Museum of Aruba.
Hooiberg
If you want to get away from the coastline for a while and head inland you will find excursions from Oranjestad to visit Hooiberg, which is a mountain located at the center of the island. The mountain is 541 foot high and on a clear day you can see as far as Venezuela.


---
Whale Watching
Birthday Parties
Fishing
Family Charters
Romantic Cruises
Anniversaries
Corporate Dinners
Weddings
Bachelorette Parties
Bachelor Parties
Private VIP Yacht Rentals Aruba
Is your idea of a perfect holiday luxuriously sumptuous surroundings? Do you want to spend time wining and dining? Host parties for your friends on board? Or simply anchor in a private cove and hang out with the ones you love?

Catering, band, and all the arrangements can be organized locally with the help of Day Yacht Charters Aruba and their local contacts.
---
Aruba Yacht Photography and Videography


Day Yacht Charters Aruba yachts are the perfect venue for hosting a celebration, and our talented team of experts can offer many tips on how to throw a unique Aruba Yacht party. We have plenty of experience in arranging nautical celebrations.


Aruba Yacht Event Planning

We try to make things as easy as possible for our customers. That's why one of our favorite services is our event planning. This allows you to make a list of your wants and needs and then, all you have to do is relax and let us do the wonders for you. When you arrive, everything on your yacht will be ready to go, just the way you like it.
Private Luxury Yacht Charters Aruba