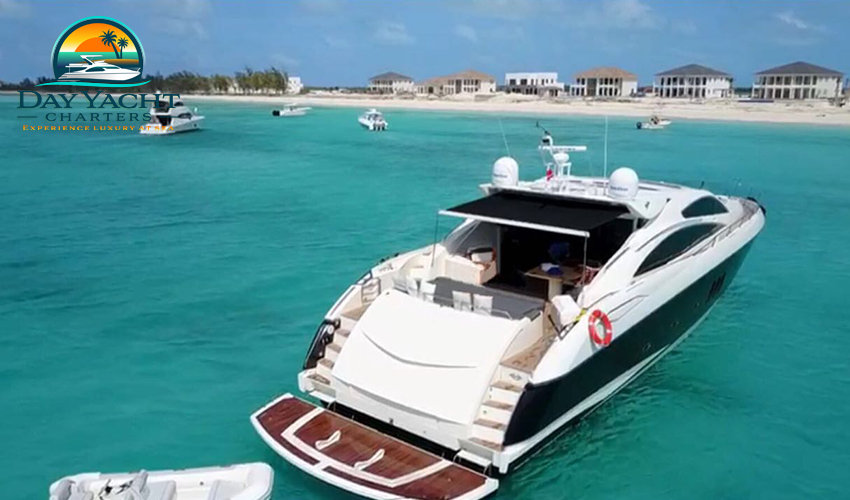 If you are looking to break away from life as you know it and willing to have a bit of adventure in it then you should rent a yacht for yourself. You will get the chance to bask in the sun, feel the water at will, fish for meat if need be or simply swim in the open water or the swimming pools on the yacht. This is the perfect ling and short term getaway for people.
Begin planning your then unforgettable Cancun Yacht charter getaway. Send an online charter request for yachts in Canun Mexico charter reservations and pricing info,
or phone call +1(305) 515-4735 to talk directly to a charter expert!
Private Luxury Yacht Charters Riviera Maya
Cancun Private Luxury Yacht Charters •
Our mission is to create an experience cruising across the Caribbean waters on a private yacht, for a fraction of the cost of owning one. Some of our fleet includes luxury yachts, express cruisers, speedboats and fishing boats, all over 38 feet and the latest models in their class to ensure that you and your family enjoy a safe and comfortable journey.
We are ready to provide the best cruising, whether it is fishing, snorkeling or just relaxing, we guarantee that this will be an unforgettable experience
.____________________________________________________________________________________________________________________________
Events We Cover On-Board
Bachelor Parties
Birthday Parties
Bachelorette Parties
Anniversaries
Corporate Dinners
Family Charters
Romantic Cruises
Weddings
Fishing
Whale Watching
Private VIP Yacht Rentals Cancun Mexico.
Is your idea of a perfect holiday luxuriously sumptuous surroundings? Do you want to spend time wining and dining? Host parties for your friends on board? Or simply anchor in a private cove and hang out with the ones you love?

Our Events Coordinator will work with you to design the perfect menu for your style of event, whether it be an exquisite seated dinner with an onboard chef, a roving lunch or simply canapés on the deck. Our caterers love nothing more than customising a menu or food theme to suit the kind of event you have in mind.
Day Yacht Charters Cancun offer extensive package options and beverage lists to ensure we provide our clients with a contemporary and wide selection. If you have an alternative preference for wines, we can work with you and try to best meet your requests.
Premium bar Available at Extra charge: Don Julio Tequila Añejo Don Julio Tequila Blanco Grey goose Vodka Black label Whiskey Matusalem Gran Reserva 18 years Rum, Can be added at extra charge depending on the vessel.
____________________________________________________________________________________________________________________________
Cancun Yachts Wedding Packages


All of our expert wedding planners will go over all information with you ahead of time so both you and your friends and family can simply relax and enjoy the finer details of the memorable time while on the water. Our friendly and seasoned boat wedding planners will help you in matching every detail for the event. Ask about all of our beach island wedding ceremonies.
Cancun Yacht Photography and Videography

While you're relaxing and socializing, it might seem like a hassle to try to snap pictures at the same time. That's why we can provide you with some of the best artists who are ready and willing to capture your amazing day on a luxury yacht.
Cancun Yacht Event Planning
We try to make things as easy as possible for our customers. That's why one of our favorite services is our event planning. This allows you to make a list of your wants and needs and then completely forget about everything. When you arrive, everything on your yacht will be ready to go, just the way you like it.
Cancun Fishing Charters
Our fishing is famous worldwide. Our captains and guides know just where to go to get you the best fish. Maybe you'll even snag a blue marlin! We are experts at helping you fish like a pro! Our Modern Tournament Ready Sportfishing Yachts are equipped with everything you will need for a World Class fishing adventure. The best Captain and the very best crews on the water. We are setting new standards for Sportfishing in Riviera Maya.