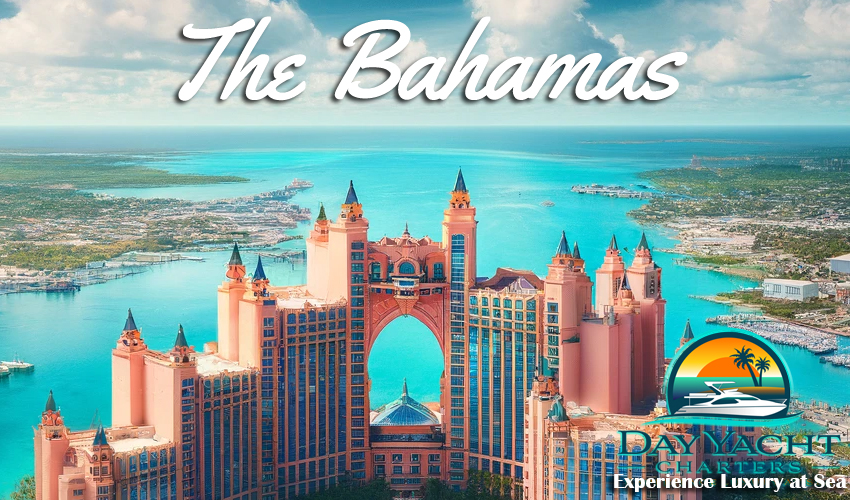 Are you looking for the best luxury yachts in the Bahamas? No need to look any further because Day Yacht Charters Bahamas offers the best. Here, you get a full range of luxury charters with the ability to meet your specific needs. We have a fleet that consists of luxury power boats for charters, luxury yachts, power yachts sailing boats, catamarans and fishing vessels. Regardless of your sea adventure needs, you can find a boat, catamaran or yacht that is right for you.

At Day Yacht Charters Bahamas we offer yachts of different designs, sizes, and capacities. However, if you would like to have a yacht that would meet your specific needs, we can offer you a highly customized yacht. We also provide personalized rates that will match your budget. If you're looking for a yacht rental by day in the Bahamas, we also got you covered, as we offer you exactly what you need to make your sea adventure a memorable experience.

Our staff is highly qualified and trained to take care of you entirely. Our Captain and crew undergo a series of training to ensure they have all the essential skills and technical know-how to keep you safe. Our team is also friendly, so you can expect to have a great experience with them. We guarantee all our clients 100 percent satisfaction and unique yachting vacations.

Begin planning your unforgettable Bahamas Yacht charter getaway now. Send an online charter request for yachts in Nassau Bahamas, charter reservations and pricing info, or phone call +1(305) 515-4735 to talk directly to a charter expert!
Private Luxury Yacht Charters Bahamas
Bahamas Island •
The Bahamian island chain begins with Bimini, just 45 miles from Miami, stretching all the way to the Turks, 500 miles to the southwest. The Bahamas is a brilliant charter location that has either excitement or serenity, depending on your mood, and is also within easy access for both American and European yacht charter vacations. Presently the Bahamas are very popular amongst crewed luxury super yachts, whether the boats are for charter or they are private owners' use. However, back in history, this is where Christopher Columbus arrived in 1492 and has in earlier days been an area sailed by swashbuckling pirates and privateers looking for places to bury their loot in the many secluded anchorages. In many places, little has changed since those early days, and the Bahamas still features exceptional sailing on the warm Gulf Stream, turquoise waters and moderate winds.
____________________________________________________________________________________________________________________________
Bahamas are known for •
The islands of Bahamas are known for their favorable sailing conditions, and the shallow waters in many parts make for an exciting watch of marine life below the surface. The Bahamas boast of more than 2,400 cays and this is another reason why you should do your next yacht charter vacation here. The cluster of islands is also home to some of the barrier reefs that resulted from corals formed over several thousand years ago. The beaches offer natural protection from the lashing waves of the open sea, and they also provide shelter to many small marine species. From Bahamas yachts can cruise for around 100 miles right towards the shallow waters of the Abaco Sea.
____________________________________________________________________________________________________________________________
NassauBahamas •
Nassau, a bustling town on New Providence Island and the capital of the Bahamas is the place to yacht charter if you like action and great nightlife. It has an excellent array of restaurants, glitzy casinos, and sophisticated hotels. Nassau is also an excellent base for your private yacht with its ideal beaches, Atlantis, the mega-resort and marina, traditional British Colonial architecture and Paradise Island.
Paradise Island is connected to New Providence by two bridges and has marina facilities. Eleuthera is a 100-mile narrow island with late-1700s architecture and famous pineapple plantations. Harbor Island, Eleuthera's neighbor, is styled in Georgian architecture and the Spanish Wells community in the north is known for excellent fishing. Southeast of Eleuthera lies Cat Island - the "high land" of the Bahamas. Eleuthera is also a popular bareboat yacht charter vacation destination and features high cliffs and a prominent link into a long past civilization. The Exumas, which straddle the Tropic of Cancer, is recognized as the sailing and yacht charter capital of the Bahamas, with 365 cays that appeal significantly to sailors. The types of yachts available for rental in the Bahamas are all the main types including various types of motor yachts, sailing yachts, and catamarans. One great thing is the fact that the Bahamas yacht charter season and the general holiday season can be viewed as essentially all year round!
____________________________________________________________________________________________________________________________
Bimini Island •
Located just 50 miles off Florida's coast, Bimini is the closest Bahamian island to the United States, boasting miles of pristine beaches. Known as Ernest Hemingway's favorite escape, Bimini is historically significant. Visitors from around the world enjoy its historical complexity and renowned past, including Bimini Road, which some people believe is a remnant of the legendary Lost City of Atlantis.
Bimini consists of two main islands—north Bimini Island and South Bimini Island—and numerous cays. The history of Bimini is as fascinating as the islands themselves. Just 50 miles from the United States, they served as a convenient offshore speakeasy and liquor store during prohibition. Rumrunners used to store their stash on the nearby shores. And speaking of rum, Ernest Hemingway called Bimini his summer home. Jimmy Buffett spent time here while writing his book, and Martin Luther King, Jr. even composed parts of his Nobel Peace Prize acceptance speech while sailing with local boat builder, Ansil, who still lives on the islands today.
____________________________________________________________________________________________________________________________
Abacos Island Bahamas •
The Abacos are a group of islands and cays that form a 120-mile–long chain stretching over 650 square miles. The coastlines are scalloped with bays, coves and protected harbors that feature full-service marinas and resorts. Great Abaco Island and Little Abaco serve as the "mainland." Marsh Harbour has a lively downtown area with all city amenities. Treasure Cay boasts miles of pristine beaches, including one of the top 10 beaches in the world. Elbow Cay and Green Turtle Cay are old English loyalist settlements, where you'll find beautifully preserved colonial architecture with a touch of Bahamian pastels, of course. And Guana Cay is famous for Sunday barbecues atop the island's tall sand dune, which overlooks a magnificent 7-mile–long beach.
____________________________________________________________________________________________________________________________
THE BERRY ISLAND BAHAMAS•
Miles of secluded swim-ashore beaches, invigorating dive sites, and championship sports fishing are just a few of the highlights that make The Berry Islands the best place for your adventure. Composed of a cluster of 30 cays, a majority of these islands are uninhabited. It's not uncommon to stumble across a footprint-free beach or private cove. You could spend an entire day without seeing a single soul. The Berry Islands are also home to some cavern, reef, wall, and wreck dive sites, as well as a 600-foot-wide blue hole, incredible bill fishing, and ancient churches.
The Berry Islands are made up of a land mass that totals just over twelve square miles. Many of the 30 cays that make up the islands are great for snorkeling, hiking, diving, and beachcombing. Great Stirrup features a now-abandoned lighthouse built in 1863 during the reign of Prince William IV. Little Stirrup Cay is a private island that's used by Royal Caribbean Cruise Lines as a one-day stopover. Chub Cay is known as The Billfish Capital of The Bahamas, as it borders the Tongue of The Ocean and attracts countless numbers of baitfish. And then there's Great Harbour Cay. It boasts seven continuous miles of magnificent beaches and one of the best-protected harbors in The Bahamas. It once was a major golf resort for the rich and famous. There are more millionaires per square inch on The Berry Islands than most places on earth.
____________________________________________________________________________________________________________________________
LONG ISLAND BAHAMAS •
Breathtaking cliffs, brilliant coral reefs, serene beaches. Long Island is home to it all. Featuring dramatic cliffs that tower over its eastern shore, the island is a haven for fishers, divers, and boaters, boasting world-class bonefishing and thrilling encounters with sea life. The island's western coast is a bit more tranquil. Visitors will find soft pink- and white-sand beaches that gradually slip into peaceful turquoise waters. Long Island is also home to Dean's Blue Hole, the deepest blue hole in the world.
Originally named "Yuma" by Arawak Indians, the island was renamed "Fernandina" by Christopher Columbus in 1492. However, Long Island earned its current name because a seafarer felt it took too long to sail past the island. After all, it is 80 miles long, but no more than four miles wide at its broadest point. The Tropic of Cancer runs directly through the island, giving it two very different coastlines—the dramatic cliffs and caves of the east coast that front the crashing Atlantic waves, and the sandy edged lee side which slopes calmly into the Bahamas Bank. Here, you'll find Dean's Blue Hole, historical twin churches built in the 1800s and one of the largest caves in The Bahamas.
____________________________________________________________________________________________________________________________
Charter a Yacht in the Bahamas for any event•
Bachelor Parties
Birthday Parties
Bachelorette Parties
Anniversaries
Corporate Dinners
Family Charters
Romantic Cruises
Weddings
Fishing
Whale Watching
Private VIP Yacht Rentals Bahamas
Is your idea of a perfect holiday luxuriously sumptuous surroundings? Do you want to spend time wining and dining? Host parties for your friends on board? Or simply anchor in a private cove and hang out with the ones you love?

All you need to tell us is what you require, the better you specify the better and leave the rest up to us. We will always guarantee you the best, as nothing else is good enough for us.
Our luxury yachts are just the things you need to make your events memorable. You can hire a private boat and then personalize it in any way you want for an event or a trip. We have the best Antigua Yachts lined up for your romantic getaways, official meeting, family gatherings or just wild nights out.
Other than yacht related activities, we also provide services for people who want to explore the coast on a snorkeling, fishing, and scuba diving adventure. If our standard yacht timing does not please you, then we can always arrange longer trips for you. We understand the appeal that the majestic water and its mysteries have on tourists, that is why we will be more than pleased to accommodate your sense of intrigue in any way we can.
The Bahamas has warm waters all year round and perfect for swimming.
The Bahamas is excellent for some things like snorkeling and yachting.
Boat Rentals Bahamas are better for tourism in many ways. They provide their customers with experienced crew along with the perfect yacht. Moreover, rentals always plan the ideal holiday getaway for you, this means you will not have to worry about entertainment at all.
______________________________________________________________________________________________________________
Premium bar: Don Julio Tequila Añejo Don Julio Tequila Blanco Grey goose Vodka Black label Whiskey Matusalem Gran Reserva 18 years Rum, Can be added at extra charge depending on the vessel.
Bahamas Yacht Wedding Packages


All of our expert wedding planners will go over all the necessary information with you ahead of time so both you, your friends and family can relax and enjoy the more exceptional details of the memorable time while on the water. Our friendly and seasoned boat wedding planners will help you in matching every aspect for the event. Ask about all our beach island wedding ceremonies today and get inspired.
Bahamas Yacht Photography and Videography


While you're relaxing and socializing, it might seem like a hassle to try to snap pictures at the same time. That's why we provide you with some of the best artists who are ready and willing to capture your amazing day on a luxury yacht.
Bahamas Yacht Event Planning
we try to make things as easy as possible for our customers. That's why one of our favorite services is our event planning. This allows you to make a list of your wants and needs and then, all you have to do is relax and let us do the wonders for you. When you arrive, everything on your yacht will be ready to go, just the way you like it.
Bahamas Fishing Charters
our fishing chatters is famous worldwide. Our captains and guides know just where to go to get you the best fish. Maybe you'll even snag a blue marlin! We are experts at helping you fish like a pro! Our Modern Tournament Ready Sportfishing Yachts has everything you will need for a World Class fishing adventure. The best Captain and the very best crew on the water. We are setting new standards for Sportfishing in the Bahamas and you can't miss out of it.
Private Luxury Yacht Charters Bahamas