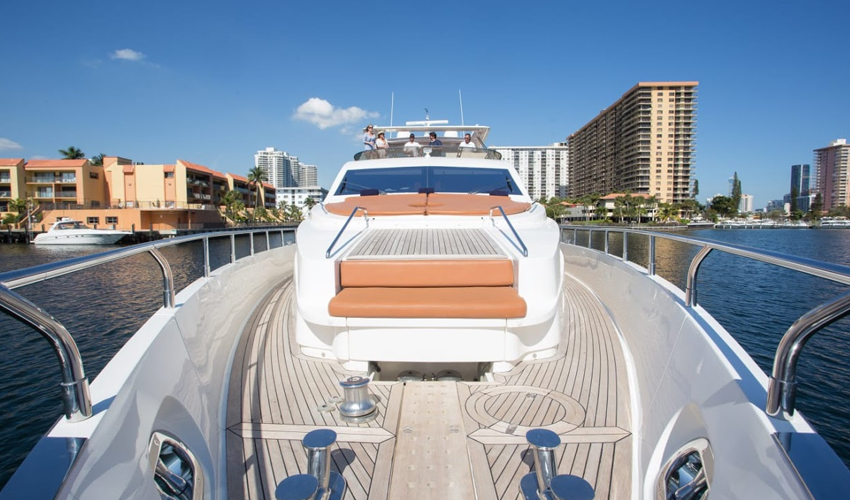 If you are looking to break away from life as you know it and willing to have a bit of adventure in it then you should rent a yacht for yourself. You will get the chance to bask in the sun, feel the water at will, fish for meat if need be or simply swim in the open water or the swimming pools on the yacht. This is the perfect ling and short term getaway for people.
Begin planning your then unforgettable Miami Yacht charter getaway. Send an online charter request for yachts in Miami Florida charter reservations and pricing info,
or phone call +1(305) 515-4735 to talk directly to a charter expert!
Private Luxury Yacht Charters Miami
Experience the glamour and excitement •
Experience the glamour and excitement of your own private yacht charter for an afternoon or evening, a day, a week, or longer voyages in the South Beach area of Miami and beyond. Enjoy the VIP experience you deserve and treat your guests to the memory of a lifetime with our fleet of luxury yachts available for charter.

We offer a variety of options ranging from luxury motor boats to incredible mega yachts, all available for day and term charters in Miami, South Beach, and beyond. Explore the crystal blue waters of the Bahamas from your own private charter yacht complete with captain and crew (including a private chef who'll craft a custom menu), or live it up on Miami's Intracoastal waters for a day, evening, or even longer on a yacht fit for celebrity or millionaire. Either way, you'll be in the capable hands of our captains and crew.
If that isn't enough to persuade you to book a charter yacht with us, the sheer array of water toys and activities available on board our luxury boat rentals will - from jetskis to inflatable slides to scuba diving and snorkel gear to on-board massages, we'll create your own personal definition of the good life and make it a reality.

We design and plan itineraries for private yacht charters and luxury boat rentals in the Miami, South Beach, the Florida Keys, the Bahamas, Bimini, and many other desirable destinations including the Eastern and Western Mediterranean, Scandinavia, and the Caribbean. Let our maritime knowledge, yachting experience, and hospitality make your next vacation the most memorable one yet - the only limit to the possibilities is your imagination.

Celebrate a birthday, holiday, milestone event, or other special occasion - or just celebrate the fact that it's the weekend - with an affordable VIP yacht rental in Miami. Our South Beach yacht charters can be anything that you can dream up - and more - so contact us today and begin planning your next voyage with one of the world's leading yacht charter company.
Making our esteem customer happy and fulfilled is what drives us in giving the best quality service. This is the more reason satisfying our customers is key to us. It doesn't matter if you are searching for a small personal party boat or going on a cruise on mega yacht to enjoy the beautiful sea, we have you covered by making it all perfect and beyond your imaginations.
Miami Yacht charter offer you an unforgettable experience when you use our services. Email or phone us today +1 (305) 515-4735 to talk directly to a charter specialist!
____________________________________________________________________________________________________________________________
Day Yacht Charters invites you to cruise with us the beautiful blue waters of Biscayne Bay, Florida Keys, Bahamas, Caribbean, and tropical local islands of Miami, Miami Beach and South Florida. We offer variety of beautiful boats and yachts for any occasion. Choose from our selection of power boats, sport yachts, fishing yachts, party boats, luxury yachts, or even mega yachts for all your luxurious tropical dreams! So join us in for private trips, fun adventures, spectacular views and unforgettable memories on a private yacht of your dreams!
Bachelor Parties
Birthday Parties
Bachelorette Parties
Anniversaries
Corporate Dinners
Family Charters
Romantic Cruises
Weddings
Fishing
Whale Watching
We offer variety of trips and charters with each tailored to your desires. Whether you want to catch hot Florida sun, cruise into the sunset, admire Miami city lights, explore wild uninhabited tropical islands, take a professional fishing charter, or celebrate that special event in your life, we surely have a charter for you! So, give us a call and let us make your tropical dream come true! Thank you so much and welcome aboard! You can find us under: charter Miami, Miami charter boat, Miami yacht charter, Miami yacht rental, and Florida yacht charters.
Private VIP Yacht Rentals Miami
Is your idea of a perfect holiday luxuriously sumptuous surroundings? Do you want to spend time wining and dining? Host parties for your friends on board? Or simply anchor in a private cove and hang out with the ones you love?

Our Events Coordinator will work with you to design the perfect menu for your style of event, whether it be an exquisite seated dinner with an onboard chef, a roving lunch or simply canapés on the deck. Our caterers love nothing more than customising a menu or food theme to suit the kind of event you have in mind.
Day Yacht Charters Miami offer extensive package options and beverage lists to ensure we provide our clients with a contemporary and wide selection. If you have an alternative preference for wines, we can work with you and try to best meet your requests.
Premium bar Available at Extra charge: Don Julio Tequila Añejo Don Julio Tequila Blanco Grey goose Vodka Black label Whiskey Matusalem Gran Reserva 18 years Rum, Can be added at extra charge depending on the vessel.
____________________________________________________________________________________________________________________________ El Our luxury yachts gives your event a taste of class and makes every of your event much more special and memorable. Customize your private vessel when you charter to suite your event and give you a sense of ownership when you are on a trip or partying. With our luxury yachts you can now take pleasure in romantic dinners, corporate and business meetings, family gatherings, fishing trip, sunset cruise and island adventures with our best Miami Yachts. Your dream holiday experience comes true when you use our top quality yacht charters.
____________________________________________________________________________________________________________________________
Miami Yachts Wedding Packages


All of our expert wedding planners will go over all information with you ahead of time so both you and your friends and family can simply relax and enjoy the finer details of the memorable time while on the water. Our friendly and seasoned boat wedding planners will help you in matching every detail for the event. Ask about all of our beach island wedding ceremonies.
Miami Yacht Photography and Videography


While you're relaxing and socializing, it might seem like a hassle to try to snap pictures at the same time. That's why we can provide you with some of the best artists who are ready and willing to capture your amazing day on a luxury yacht.
Miami Yacht Event Planning
We try to make things as easy as possible for our customers. That's why one of our favorite services is our event planning. This allows you to make a list of your wants and needs and then completely forget about everything. When you arrive, everything on your yacht will be ready to go, just the way you like it.
Miami Fishing Charters
Our fishing is famous worldwide. Our captains and guides know just where to go to get you the best fish. Maybe you'll even snag a blue marlin! We are experts at helping you fish like a pro! Our Modern Tournament Ready Sportfishing Yachts are equipped with everything you will need for a World Class fishing adventure. The best Captain and the very best crews on the water. We are setting new standards for Sportfishing in Miami Florida.