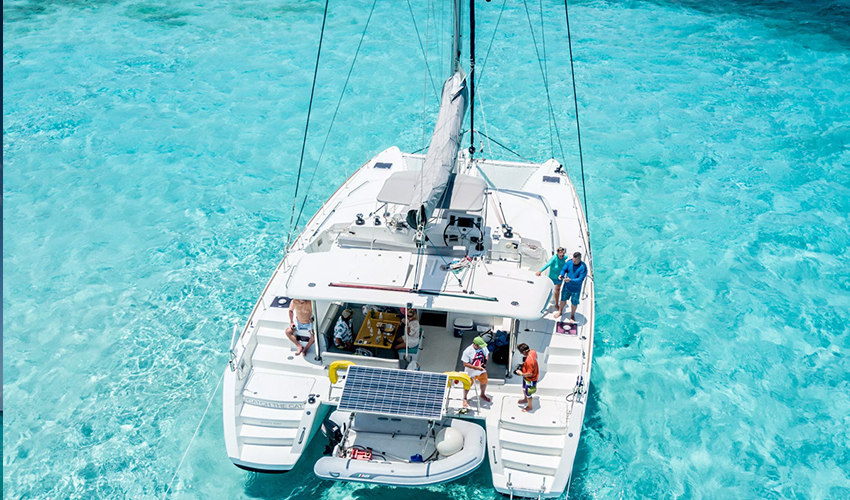 Making our esteem customer happy and fulfilled is what drives us in giving the best quality service. This is the more reason satisfying our customers is key to us. It doesn't matter if you are searching for a small personal party boat or going on a cruise on mega yacht to enjoy the crystal clear waters of the Cayman Islands sea, we have you covered by making it all perfect and beyond your imaginations.

Cayman Island Yacht charter offer you an unforgettable experience when you use our services. Email or phone us today +1 (305) 515-4735 to talk directly to a charter specialist!
Private Luxury Yacht Charters Grand Cayman Islands
Menu Link and Catering •
.................Menu Link Click Here
____________________________________________________________________________________________________________________________
Included •
Vessel is equipped and stocked with coolers & ice, bottled water, sodas. Fuel, snorkel gear and crew.
____________________________________________________________________________________________________________________________
Things to bring. •
Hat, Sunglasses, sweater in case cool evening, MP3 player or phone for music, Sun lotions ... lots of it. If you are the light-skin type, get SPF 25 or higher.
Also we do not provide alcoholic beverages so bring any beer or bottle of any type you like also if you wish to bring your own food you are also welcome to do so
____________________________________________________________________________________________________________________________
Where are we located? •
All of our vessels are docked at Camana Bay where you can enjoy lunch or dinner before or after your trip as we have arranged special offers with several vendors. If you would like a detailed tour of Camana Bay we can arrange to have one of their Ambassadors take you on a special guided visit. ____________________________________________________________________________________________________________________________
Where can we go on on charter? •
Option 1: 4hr Stay in North sound (Stingray Sandbar, Starfish Point & Reef Snorkeling)
Option 2: 4hr Go Around and do Stingray Deep, Reef Snorkel & Kittiwake
Option 3: 6hr Stay in North sound with more time at each stop plus time for lunch somewhere (Stingray City, Starfish Point & Reef Snorkeling)
Option 4: 6hr Go Around and do Stingray Sandbar, Reef Snorkel & Kittiwake
Option 5: 8hr Stay in North sound with more time at each stop or more stops & lunch stop (Stingray City, Stingray Deep, Starfish Point & Reef Snorkeling)
Option 6: 8hr Go Around and do Stingray Sandbar, Stingray Deep, Starfish Point, Reef Snorkel & Kittiwake
____________________________________________________________________________________________________________________________
Events we cover.
Bachelor Parties
Birthday Parties
Bachelorette Parties
Anniversaries
Corporate Dinners
Family Charters
Romantic Cruises
Weddings
Fishing
Whale Watching
Private VIP Yacht tours Cayman

All you need to tell us is what you require, the greater you specify the better and leave the rest up to us. We will always guarantee you the best, as nothing else is good enough for us.
Our luxury yachts are just the things you need to make your events memorable. You can hire a private yachts and then personalize it in any way you want for an event or a trip. We have the best Cayman Yachts lined up for your romantic getaways, official meeting, family gatherings or just wild nights out.
Cayman Island enjoys calm water for most months in a year. The winds from the Northeast only have an average speed of about 15 knots. These breezes might get your cruise going in the direction of the wind but are not strong enough to wreck any havoc. If you want to sail around just take your yachts to the West of the Cayman Islands. The North Sound region as well as the Seven Mile Beach is always packed with charters. But this is just the icing on the cake; if you want we can arrange sailing trips for you on other auspicious locations such as Rum Point.
Other than yacht related activities people who want to explore the coast can go snorkelling, fishing and scuba diving. If our standard yacht timings do not please you, then we can always arrange longer trips for you. We understand the appeal that the majestic water and its mysteries have on tourists, we will be more than pleased to accommodate your sense of intrigue in any way we can.
Cayman Yachts offer their services to multitudes of Cayman Islands. As a general note the water around the Little Cayman Island and the Cayman Brac Island has fewer visitors than the water around the Grand Cayman.
Grand Cayman is famous for a number of things like snorkelling and scuba diving.
Rentals are better for tourism in a number of ways. They provide their customers with experienced crew along with the perfect yacht. Besides rentals always plan the perfect holiday getaway for you, this means you will not have to worry about entertainment at all.
Snorkelling is a major attraction at Grand Cayman!


Snorkelling is a major tourist attraction. We have sensationally warm water that is absolutely perfect for snorkelling. We have a number of sites; each site is customized to meet the needs of individuals with a certain level of expertise. This guarantees that there is something for everyone here. Another great thing is that the sites are not too far away from coat. A short boat ride and you will reach your destination of choice!
We know that many of you might have never set foot on a yacht let alone would have ever ridden one. This is exactly why we at Yachts Cayman not only provide you with a yacht but also with a captain to go along with it. Our hospitality does not end there; we also provide you with a chef and a server to make sure that you are well served. According to local legend the love of sting rays was born out of the bond that fishermen developed with the sting rays when they first settled there. They were so friendly with them that the sting rays would let them feed them with their own bare hands!
Stingray City Snorkel adventure in Grand Cayman Island.

There is actually two Cayman Islands and each one is great in its own way, Both of wich are in Grand Cayman's North Side, just inside the barrier reef, and not to far from the marina. You will need at least 45 minutes at each spot to fully enjoy and experience the magic.
According to local legend the love of sting rays was born out of the bond that fishermen developed with the sting rays when they first settled there. They were so friendly with them that the sting rays would let them feed them with their own bare hands!. Stingray attraction was born! Now lots of people come here each and every year to experience the magic of Cayman Island Stingrays.
Stingray City
Out of the two sites this is the deeper one! It has a depth of approximately 12 feet. It is not only a popular diving area but it is also a very popular snorkelling region. It is also better than the other site because it is nearer to the reed also. Along with sting rays you might just happen to see a bit of reef fish and eels.
Stingray Sandbar
It is a well renowned sandbar. The depth of water is usually shallow but it usually depends on the tides. The water depth can range from 3 to 6 feet. You can stand in this water and well drown in it too if you are not too careful but novice swimmers can learn swimming in such a setting!
Getting away from it all is at the heart of most Cayman Islands yacht charter, and there is no finer way to cruise the area waters than in a private yacht charter.