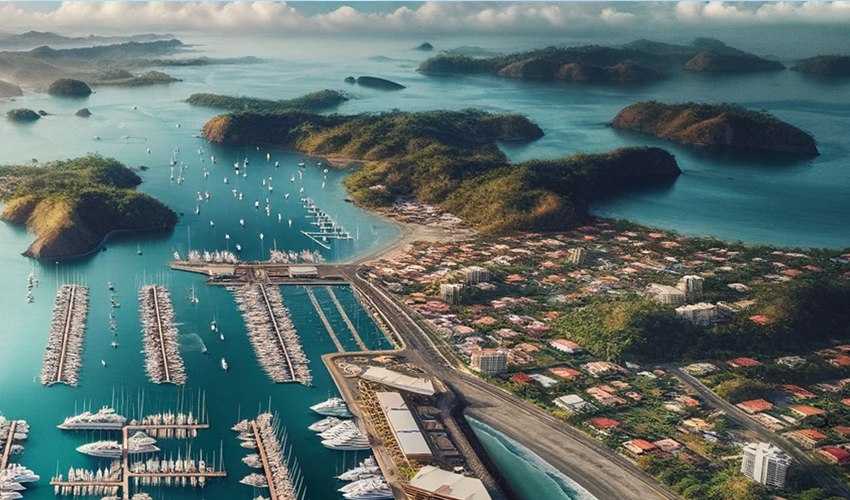 You are about to experience what the Ticos mean when they say "Pura Vida". It literarily means 'the pure life' which is an expression of excellence. Chartering a yacht in Costa Rica presents you with a rich and amazing plethora of activities enjoyable to a maximum satisfaction. You get to enjoy fun activities such as snorkeling, fishing, rafting rivers, wakeboarding and varieties of ecotourism. Costa Rica is rich in Nature having a wide range of species.
Costa Rica has about a population of 4.5 million and is situated in Central America bordered by Nicaragua (to the north), Panama (to the southeast), the Pacific Ocean (to the west), the Caribbean Sea (to the east), and Ecuador (to the south) of Cocos Island.  This makes Costa Rica a rich place to unwind and explore a lot of places.

Costa Rica Yacht Charters, Private Boat Rentals Costa Rica
Yacht Catering •
____________________________________________________________________________________________________________________________
Included •
We provide crewed charters only. Our yachts are stocked with bottled water, coolers, soda, ice, snorkel gear, and fuel.
We do have catering Menu to choose from. Menu's varies from the vessel to vessel
____________________________________________________________________________________________________________________________
Things you can bring with you •
We expect you to provide certain items for yourself. They include hats, sunglasses, sun lotions, etc. Also, we do not provide alcoholic beverages so you can come with your favorite drinks. You are also welcome to bring any food you may like..
____________________________________________________________________________________________________________________________
Places to explore on a charter •
Our usual starting point is the ecstatic port town of Puerto Caldera; it's a town full of life and excitement. As you tour along, you get to enjoy the wonderful sight of waters overflowing with tropical fish. The jungle is also a natural beauty to behold and definitely one of the remarkable memories you will keep for a long time.
____________________________________________________________________________________________________________________________
Our Charter Itineraries •
Yacht Charters in Costa Rica
We have a fun-filled series of the tour that gives you a complete touch of Costa Rica. You get to enjoy thrilling trips to amazing places like the Tortuguero National Park which is popularly known as the home of flowers and animals. The route to this park is optional for you; you can either enjoy this adventurous trip through a road path, by boat or a zip line.
That's just one out of many; the pacific coast present you with awe-inspiring tours such as the wildlife tour to Curu National Wildlife Refuge, beaches of the island of Tortuga, etc. there's a lot more to experience… let's give you an overview of our one-week itinerary. 
One week itinerary
Day One
On you arrival to San Jose, we allow you settle into the hotel of your choice while we get set for you first tour. Your journey starts as you go through Costa Rica's West Coast to the magnificent Bahia Herradura, where you will be boarding your private yacht. It's a luxury yacht filled with amazing accessories and features to give you great comfort.

Day Two
On the second day, we take a cruise to Quepos to enjoy a fun packed day. You get to enjoy a scuba dive. It's an experience you will be glad to have. You get to swim under the water with the aid of breathing apparatus (scuba) and enjoy the beauty of nature under the water. On this same day, you will also take a trip to the world famous Manuel Antonio National Park.
This park has a lot of exciting features. You get to explore the jungle to see the beauty of nature at its best. Squirrels, monkeys, three-toed sloths are just a few of so many wonderful creatures to see. If you have never gone on a wildlife tour you may never want to leave the scene. It's great if you have your camera with you because you will have a lot you want to keep for future references.

Day Three
We take a luxurious cruise to Isla Del Cano a unique site known for its hidden world of submarine caves with a  display of alluring tropical fish, turtles, etc. one sight you will never forget is the magnanimous giant manta rays.
After an exotic lunch on the yacht, we give you a while to spend some quality time to enjoy your siesta or any other form of relaxation you enjoy as we get set for dinner. It's a wonderful dinner as we dine grand style under a canopy of stars in the immaculate Drake's Bay.


Day Four
Leave early for Golfo Dulce where we will stop for a trip to the Corcovado National Park. Here you will experience some quite spectacular bird watching such as pairs of scarlet macaws. When in the wild you will always find them in pairs and if they are captured and separated, they will never mate again as they always mate for life once they choose their partner. We'll paddle up the Agujitas River by kayak while listening to the cacophony of sounds that the yellow-orange billed toucans and scarlet macaws make. We'll anchor for the night in Golfo Dulce and have an early dinner onboard while the crew prepares for an overnight passage to Coiba Island in Panama.

Day Five
At Coiba Island, you will have an experience of a swim snorkel or scuba gear as you explore the reefs. You w ill also enjoy world class deep-fishing. Coiba Island is rich with tropical rain forest which is a home for varieties of beautiful birds like the red and blue-green macaws.


Day Six
On the sixth day, you will be on a cruise to the Las Perlas Islands. They are geographically positioned in a way that they shelter the Isla Sonora Caves hosting the world largest pelican habitat. It's a great sight to behold here and you can look around to find pearls of Espiritu Santo.
Lunch is served onboard, with a variety of plenty to eat before you have your siesta. After a quality time of rest, you get to enjoy an exotic dinner again.

Day Seven
Our next tour will be to Mira Flores Lock and the much talked about Panama Canal. It takes about a full day or night to cross over to Isthmus Panama. Get your cameras ready as you may be lucky to catch a view of the endangered manatee which takes the Chagres River as its home. A lot of amazing animals will be seen on this tour, you never can tell what next you will be opportune to see.
Dinner is served as you arrive at Puerto Cristobal Habor. The chef and the crew know its' your last night and they will be prepared to spoil you with varieties of exotic meals.

Day Eight
As you depart the yacht at the scheduled time, there will be a classic transportation arranged by the captain to take your group to Colon to board a flight back home.
____________________________________________________________________________________________________________________________
Events we cover.
We cover the following events giving you high-quality services
Bachelor Parties
Birthday Parties
Bachelorette Parties
Anniversaries
Corporate Dinners
Family Charters
Romantic Cruises
Weddings
Fishing
Sunset Cruises
Private VIP Yacht Charters, Costa Rica

We ensure that you have the best every time you use our service, what we require of you is to give us precise details of what you desire – and we make it happen.
We love to give you the luxury you can't find elsewhere, so we do all we can to give you a remarkable experience. We have the best San Juan, Costa Rica Yachts and we can customize them to soothe your business meetings, family meetings, romantic trips, etc.
Aside from activities related to hiring yachts, we also give you the services of snorkeling, fishing and scuba diving. Sometimes the scheduled timing may be too 'short' as customers always want to explore more because of the fun and excitement. For this reason, we also extend these services by arranging for longer trips it desired.
For day trip rentals Day Yacht Charters remain the best in it class for all your yacht charters needs. We provide you with luxury San Juan yacht rentals and a courteous and experienced crew. We also plan for your vacations, providing entertainment and fun at its peak.
Snorkelling is a major attraction in Manuel Antonio National Park!


This small park located on the Pacific Coast of Costa Rica is a very important part of the country. It's been a major destination for eco-travelers and those who want to have the unique experience of snorkeling. Though the Pacific Coast is well known for its high currents but the park has a handful of areas that are calm and okayed for snorkeling. Amongst the snorkeling beaches here, the Playa Manuel Antonio (named after the park) is known as the best for snorkeling. The beach is set in a deep cove, posing as a shelter.
The park is rich with tens of islands which have unique features such as coral reefs, calm water (great for snorkeling), gardens, etc.
During December and May, whales migrate through the park's water and it's a beautiful sight to see. At this time whale watching becomes one of the amazing events on our itinerary. Because of the rough conditions of the water, we advise snorkelers to swim only within the designated areas set by the park and also adhere strictly to instructions during snorkel boat tours.
Manuel Antonio National Park also features an amazing marine life. The likes of the coral-munching parrotfish are one of these unique creatures. It feeds on coral and passes out a cloud of white sand as feces. Look out for the triggerfish. This territorial fish is known for its attacks on divers and snorkelers.
Costa Rica Yacht Charters.

Costa Rica has become a major player highly significant for yacht charter vacations. Its magnificent beaches and its luxuriant coastlines are the best for yacht charters to drop anchor. It features quality sightseeing attractions and entertaining activities that make your holiday a worthy one.
Revealing the awesomeness of nature, Costa Rica has proven to be a place to enjoy a full pack of wildlife, beaches, jungles, marine life, etc. these categories shower visitors with an exclusive tour and activities like snorkeling, whale watching, sun bathing, jungle tours, national park visits, etc.
The exceptional culture of the Costa Ricans is a remarkable one. Popularly known as the Ticos, the indigenes are warm and receptive people who love to have a variety of people in their country and treat them as Ticos too. One beautiful pride about this lovely country is that they have enjoyed democracy for a hundred (100) years without having an army. They are simply peaceful people, loving and courteous. Ticos have a keen interest in their national and natural treasures and they take good care of them.